This article states the procedure for DSC registration by manager/secretary/CEO/CFO.
The procedure to obtain registration of Manager's/Secretary's/CEO's/CFO's DSC is as follows-
Step-1- Go to the MCA portal www.mca.gov.in.
Step-2-Click on MCA services option.
Step-3- From there select associate DSC option.
Step-4- A screen asking for the selection of role will appear.
Step-5- Further, a drop down list will appear. From there select the 'Manager/Secretary option.
Step-6-A screen asking for Income tax PAN and other details will appear. The applicant is required to fill the same and ensure that the details filled are in line with information filed in DIN-3 Form.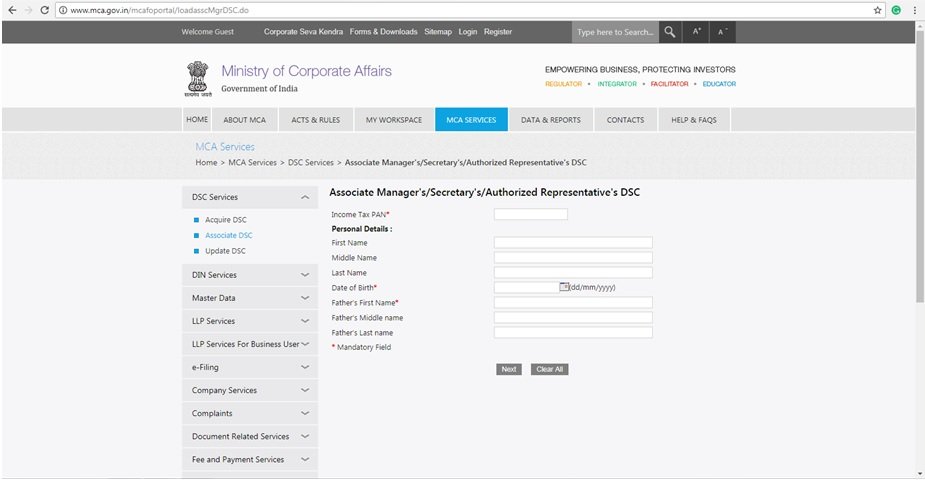 Step-8- Click on the 'Next' button. The system would verify the details.
Step-9- In case the details are correct, the system would ask the applicant to select the DSC. Further, the applicant is required to click on the 'Select Certificate' button to browse and select the certificate.
Step-10-The system shall validate the DSC. If in case the selected DSC is already registered against given PAN, the system will give an informatory message.
Step-11- The applicant is required to 'Type' the displayed system generated text for verification in the box provided and click on the 'I agree' button. Finally, he is required to press the submit button.
Step-12- An acknowledgment message will be displayed to the user.